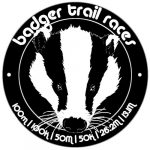 We are elated to have our Belleville Music Festival coincide with the prestigious Badger Trail Races from Ten Junk Miles Racing. Ultra athletes convene on Belleville to run from a half marathon to a 100 mile race. (The link also goes to two other Belleville-area races, the Sugar Badger race in May and Last Dot Standing in October.

The finish line? It's Community Park, the location of the Belleville Music Festival! Click the Badger Trail logo above to learn more about the race or to register to run the Half Marathon, Marathon, 50K, 50 Mile, 100K, or 100 Mile race.

Sponsored by Ten Junk Miles, the podcast dedicated to trail, road, and ultra runners. Click the TJM logo to listen in and learn more.